WARNING: SPOILERS AHEAD
This article contains spoilers. Proceed at your own risk.
| | |
| --- | --- |
| | SOMETHING'S MISSING... |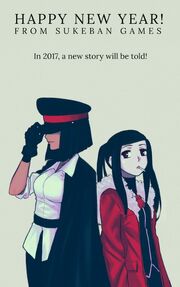 Tres Alicias is a reference to a possible sequel or a tie-in to another game not necessarily a sequel to VA-11 Hall-A, like how Read Only Memories is a game set in the same universe and with a ton of references, despite them being completely unrelated games.
After finishing the Anna Extra Night's Demo, you unlock 'START': a mini-story that takes place straight after the end of the main game. In it Jill and Anna have a conversation about various topics based on which dialogue options you chose. After selecting every option possible you are treated to a mini-logue at the end; Anna (who is listed as the speaker in the dialogue file) talks about trust and truth what they are over a picture of herself in crutches (dubbed annacrutch_cg_obj in the same dialogue file) before the screen fades to black with 'See you at Tres Alicias...' appearing in the left hand corner.
Creepy Images
Edit
Some images were found in the game files. They were mentioned by developers in note for Patch 1.2.1.3. Developers are pretending like there's no such thing.
One of images contains list of letters which can be deciphered through a reverse-additive cipher; they translate to "HEARDINTHEECHO", which is the name of a file in the app data folder for VA-11 HALL-A. This file, in turn, contains more letters that translate into the following (with slight modifications as a result of possible errors):
"CANYOUHEARHER
CANYOUHEARHERSTEPS
CANYOUHEARYOURFEARSBOILING
CANYOUFEELYOURREGRETSSURFACING
YOURSCARSAREOPENING
YOURSORROWSARESCREAMING
SHELLMAKEYOUBURNINYOURSINS
SHELLMAKEYOUDROWNINYOURTEARS
MASKCHANCOMES"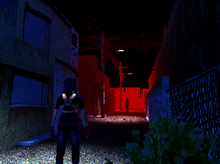 References
Edit
Ad blocker interference detected!
Wikia is a free-to-use site that makes money from advertising. We have a modified experience for viewers using ad blockers

Wikia is not accessible if you've made further modifications. Remove the custom ad blocker rule(s) and the page will load as expected.